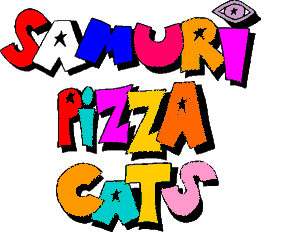 The Credits:

Finally, rounding out the informative portion of the SPC section here at the Anime Palace, let's take a quick look and give credit to the hard working crew, who without them, SPC wouldn't have existed at all, or even worse....would have been picked up by DIC and turned into a horribly dubbed mess like they did with the first 2 seasons of Sailor Moon.

However, I shall leave that argument to the many SM sites out there.

Let the credits roll!!.....
Samurai Pizza Cats:
A Production of Saban Entertainment / FOX
©1991 Saban International
Distributed by Saban Entertainment
(Original Air Dates: Sept. 1992- Sept. 1997, worldwide)

Kyattou Ninden Teyandee:
A Production of Tatsunoko Animation, Japan
©1990-1991 Tatsunoko
Distributed by Sotsu Agency
(Original Air Dates: Feb. 1990- Feb. 1992, Japan)
-----
English Dub Credits:
Producers:
Producer:
Andy Thomas
Executive Producer:
Winston Richard
-----
Voices & Voice Recording:
Featuring The Voice Talents Of:
Terrence Scammel
(as Guido & the Narrator)

Rick Jones
(as Speedy & Bad Bird)
Dean Hagopian
(as the Big Cheese)
Michael O'Reilly
(assorted voices)
Mark Camacho
(as Spritz T. Cat & Others)
A.J. Henderson
(as Big Al Dente)
Sonja Ball
(as Polly & Mama-san)
Pauline Little
(as Francine & Junior)
Susanne Glover
(as Lucille, Princess Vi, & Empress Frieda)
Guest Voice Appearances by:
Walter Massey
Teddy Lee Dillon
Richard DuMont
Robbie Morrow
Frank Welker
~ & ~
Anik Matern
Voice Director:
Tim Reid
Voice Recording:
Pierre L'Abbe
Luc Herbert
-----
SPC Music & Soundtrack:
Music Composed By:
Shuki Levi
Haim Saban
Singing Sensation:
(Lead Vocal on SPC Opening/Closing Themes)
Googie Gomez
Music Production:
Andrew Dimitroff
Music Engineers:
Barron Abramovitch
Xavier Garcia
Music Editors:
Barron Abramovitch
Nick Carr
Xavier Garcia
Mark Ryan-Martian
Executive In Charge Of Music:
Ron Kenan
Music Published by:
©1991 - Warner/Tamerlane Music Publishing Corp. - BMI
(a division of AOL-Time Warner)
-----
The Script Writers & Video Editors:
Post Production Supervisor:
Eric S. Rollman
Post Production Assistants:
Janna Bryan
Jennifer Canaday
Lauren Jackel
Videotape Supervisor:
Stacy Gale
Offline Editor:
Terry Marlin
Story Editors:
Bob Barron
Tony Oliver
Samurai Pizza Cats Opening Title Sequence:
Mix Efex
-----
Spiritual Advisor:
HOGAN, the Wonder Cat
(This was Andy Thomas's cat. She passed away in 1997)
-----
Voice/Music Dubbing & Sound FX:
Recording Engineers:
Clive Muzumoto
Pierre L'Abbe
Alain Roy
Francois Deschamps
Sound Effects Editors:
John McGarth
Scott Page
Ron Salaises
Johnny Valentino
Assistant Engineers:
Darryl Colt
Don Sexton
----
SPC's Studios:
Facilities:
Action Video
Tony Rastatter
STARFAX
CINAR Studios